SHERA plank is a unique fibre cement composite of natural fibres bonded tightly in a high-grade silicate structure. This autoclaved wood-grain siding acquires impressive toughness, yet remains flexible and dimensionally stable. It is a cellulose cement plank that contains absolutely no asbestos fibre, no fibre glass fibres or formaldehyde.
SHERA Square Cut Edge Planks
SHERA's range of fibre cement planks come in a two different formats.
Square Cut Edge
Shiplap Edge
Square Cut Edge
These planks are more 'traditional' and are used in external siding applications where the planks overlap the preceding rows. These planks come in Teak or Cassia or even smooth surface profiles and the Teak surface planks also come in coloured formats, see below.
Shiplap Edge
The planks have various profiled edges and give a more 'modern' shiplap look to your siding application. Edge profiles are shown below. The shiplap range are primarily uncoloured format and can be painted pre-installation or on site, using any acrylic water based paint.
Various Surface Profiles
Contemporary Colour Range
* Coloured planks are Teak profile only
Latest Colours
Availability of SHERA Square Cut Planks
 Thickness (mm)
Width (mm) 
 Length (mm)
 Weight (kg/pcs)
Profile
 Colour Format
 8
 150
 3000
 5.4
Teak/Cassia 
 Uncoloured & Coloured
 8
 200
 3000
 7.2
 Teak/Cassia/Smooth
 

Uncoloured & Coloured

 8
 150
 4000
 7.2
Teak/ Cassia
 

Uncoloured & Coloured

 8
 200
 4000
 9.6
 Teak/Cassia
 

Uncoloured & Coloured
SHERA Shiplap Planks
Various Edge Profiles
SHERA plank comes in various edge profiles suitable for different applications.
Latest Colours for SHERA Shiplap Planks
SHERA Shiplap Deline Range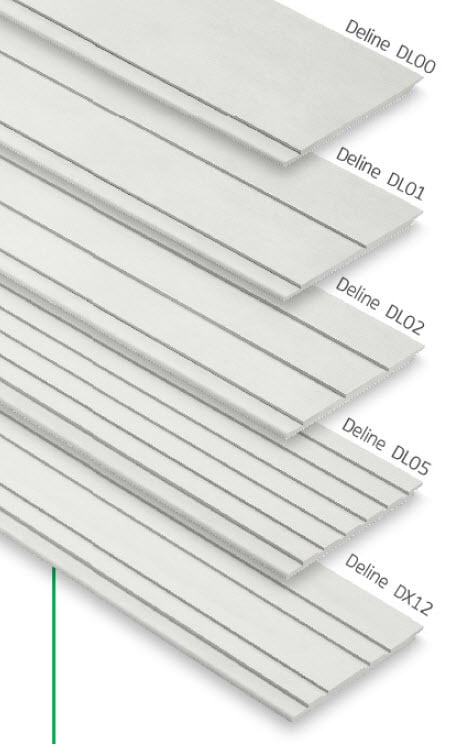 SHERA Deline is a new, modern looking shiplap plank that comes in several surface textures, including smooth and straight grain wood profile.
The Deline range also comes in a variety of different 'groove' profiles as you can see on the left, which give your exterior siding application a modern, unique appearance.
And of course, the Deline plank range is fire resistant to min A2 standards so is the perfect accompaniment to your high rise decking application that requires external siding in a fire resistant material.
Size: 10mm x 220mm x 3000mm.
Surface Texture: straight grain or smooth.
Colour: uncoloured.
SHERA Shiplap Planks for Interior or Exterior Cladding
SHERA shiplap plank range are perfect for interior and exterior decorative cladding applications.
Availability of SHERA Shiplap Planks
Edge Profile
 Texture
 Thickness (mm)
Width (mm)
 Length (mm)
 Weight (kg/pcs)
 Colour Format
 Orchid Tree
 

Cassia/Smooth

 10
 150
 3000
 6.55
Uncoloured 

 Croton
 Cassia/Smooth
 10
 150
3000 
 6.33

Uncoloured 

 
 Yellow Flame
 

Cassia/Smooth

 10
150 
 3000
 6.33

Uncoloured & Coloured 

 
 Jacaranda
 Cassia
 10
150
 3000
 6.10

Uncoloured 

 
 Modern Stagger
 Smooth
10 
 100
3000 
4.40 

Uncoloured 

 
 
Smooth 
 10
 150
 3000
6.60 

Uncoloured 

 
 
 Smooth
 10
200 
 3000
 8.80

Uncoloured 

 
 
Smooth *
 10*
 300*
 3000*
13.2 0*

Uncoloured 

 
 Standard
 Category
 Title
 ATSM

ASTMC1185, C1186-91

Flat Non-Asbestos Fibre-Cement sheets

ISO 

ISO 8336: 1993

Fibre-Cement Flat sheets

AS/NZS

 2908.2: 2000

Cellulose Cement Product Part2: Flat sheets

 JIS
 

A5430 – 1995

Fibre Reinforced Cement Boards

 

EC Conformity

12467: 2004

Fibre-Cement Flat sheets
 Certification
 Category
 Title
 

GreenLabel / Singapore

 

ASTM D5116-06

 Emission Test
 

CarbonLabel / Thailand

 
Carbon Reduction 
Physical Properties 
 
 Thickness Tolerance
 

+

10%

 Density
 

1300 – 1350 kg/m3

 Modulus of Rupture

≥ 7

MPa

 Modulus of Elasticity
 7100 + 500 MPa (Wet)

Water Absorption

 < 35%

Moisture Content

 

<

15%

Water Tightness

 Pass
 PH Value
 

7

 Fire Resistance Properties
 
 Ignitibility
 Pass
 Fire Propagation Index

I = 0.1

 Surface Spread of Flame
Class 1
 

Reaction to Fire Classification

 

A2-s1, d0

 Fire Resistance Properties
 
 Freeze/Thaw Resistance
 Pass
 Warm Water Resistance
 Pass
 Heat / Rain Resistance
Pass 
 Soak / Dry Resistance
 Pass
Applications
SHERA Planks - both square cut edge and shiplap style - can be used in a wide variety of building applications:
Contact Us